Congrats! your baby is about to turn 1 year old! Can you believe how fast time is flying by? I'm sure you can close your eyes and remember the day the baby arrived. All those feelings and excitement with welcoming a baby. You might have been too overwhelmed to schedule a Newborn photo session or you might be a milestone recording mom! Either way a cake smash is a gorgeous second chance to capture a unique milestone. Baby's 1st birthday happens once!
There is a myth that Cake Smash sessions need to be outdoors. If you live in Boston, today you'll walk away with a smile. Winter babies can have fun with the cake too!!!
Outdoors ~ The sweet hot summer days
Late Spring and Summer are my personal favorite seasons in Boston. Yes! I'm Venezuelan, so being able to leave my house without a big scarf adds an extra smile in my face. From May to September outdoors Cake Smash are a great option! We can meet ANYWHERE, from your backyard at home to a sandy beach. The magic can take place in any location, ultimately everything is centered around the cake. I'll find beauty in any location and we'll chase the best light to create magic memories of your kid's 1st birthday!

Can the family participate?
Of course they can! You can decide who makes the cut. In some sessions siblings join us, in other cases even parents make it to the set. This is your session, we're celebrating your kid and you decide who makes it to the portraits.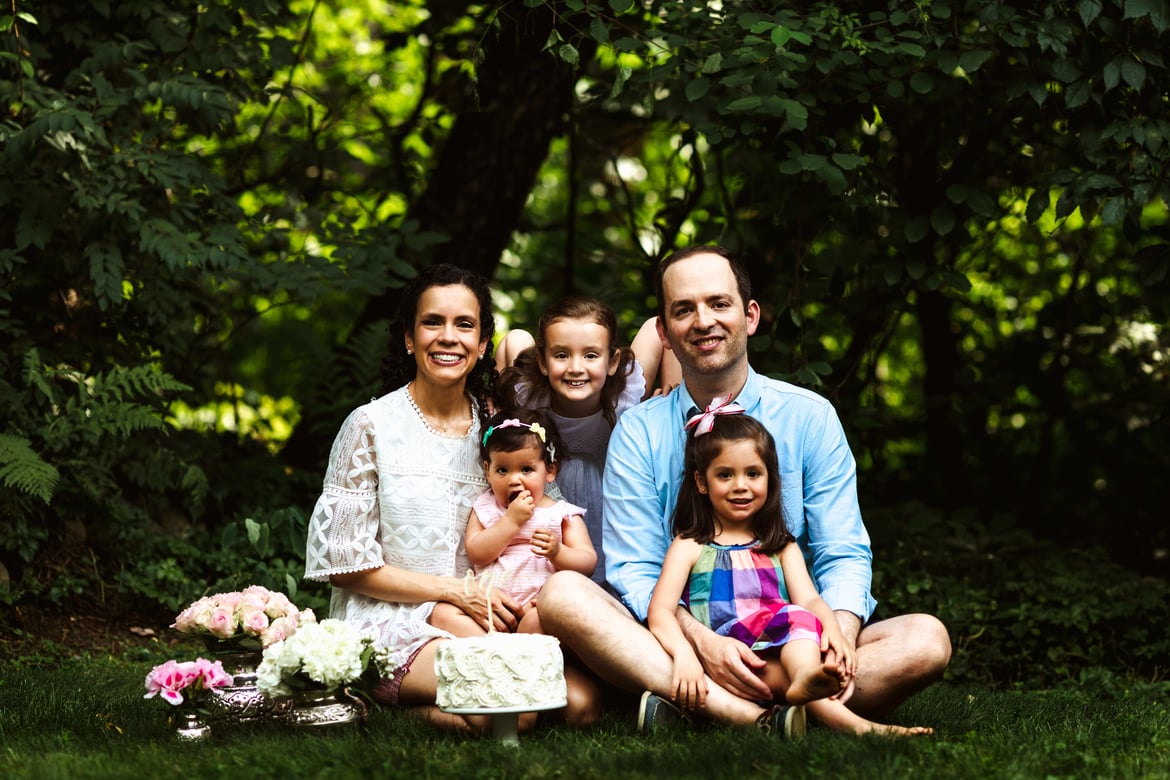 Will my kid eat the cake?
Humm, I would say there is a 65% chance your kid won't like the cake. Don't take it personal, you probably have been avoiding sugar in all things food for your kid. Then come the Cake Smash and a HUGE sugary cake is presented to your little angel. Your kid might not understand what's going on, then when they are brave to take the first bite they might not like the sweetness or even texture of the cream (yes! it's the cream what creates the mess we love for the best adorable cake smash portraits!).
The solution... cheerios! or even salty crackers!. You have no idea all that we hide in the cake to make it appealing to your little one. We'll have all these tricks handy, we'll be prepared and ready to intervene. Then it becomes a 'picking game'! your kid will have so much fun picking the desired treat and then the fun begins and candid expressions begin to flow. I'll be ready to capture the magic!

Why do we need a spoon?
I'm sure you - Mom - eat with a spoon too! haha.. Some kids don't like to get dirty. My kids would dive into the cake like there is no tomorrow yet others don't enjoy feeling the cream in their hands. That's 100% understandable and ok. Isn't this your kid's happy photo session? If he/she wants or needs a spoon, we'll have it handy. Whatever it takes for them to be full of joy.

Indoors ~ Oh baby it's cold outside!
What about winter or fall babies? Yes! they can have tons of fun as well. In Boston during these seasons, the Cake Smash photo session happens in the comfort of your home. I bring my entire studio, that means lights, backdrops, props, and the entire set. In my opinion? indoors sessions are even more relaxed for parents. You get to be home, relaxing and maybe feeding your kid a snack while I prep the studio.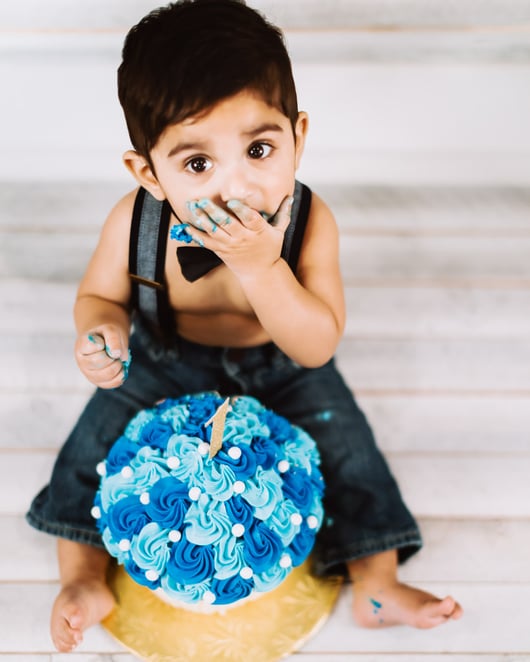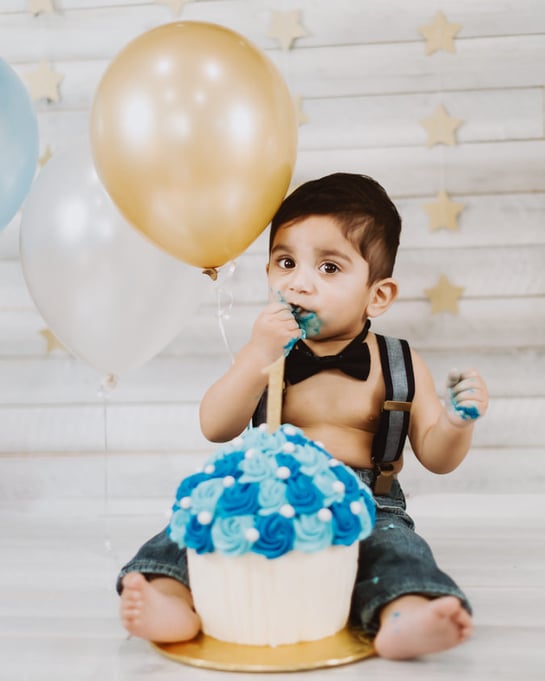 At home with the siblings
The best part? if siblings are participating they can join us for a couple of minutes and then they can go back to play, or Dad will drop them in school. It's super easy for siblings who are not the center of attention that day. They see all the production and usually want to dive ALL IN to the set, by being home they have so many distractions (toys/games) that not being the birthday kid is not hard at all :)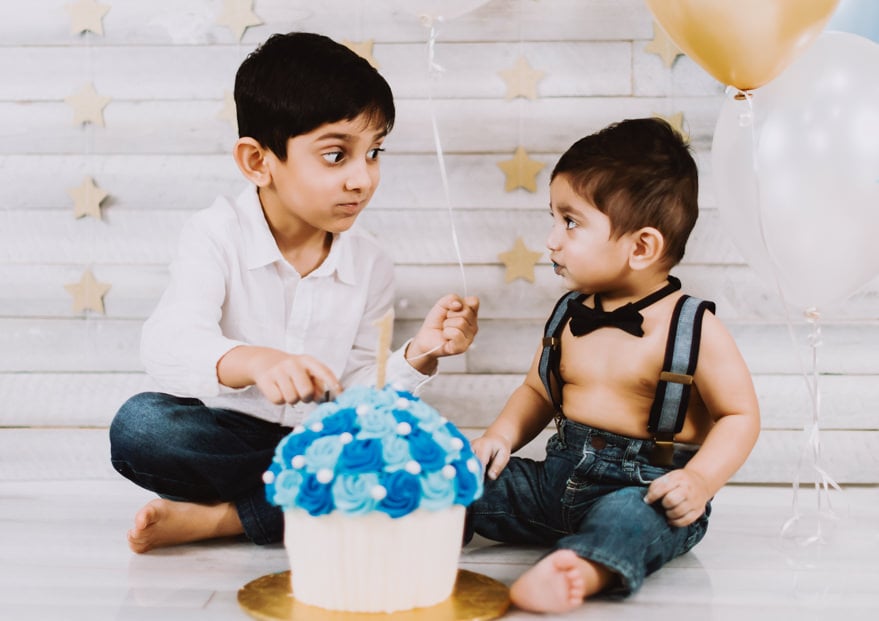 Dancing with the stars
In home photo sessions also mean that grandma can play music out loud in the background! In this session grandma was our DJ, you can see the little one dancing in cuteness. If you have family that would love to watch the photo session behind the scenes, doing the photo session at home is a great idea. We had a blast during this Cake Smash session, we had quite an audience with both grandparents, mom, dad, and big brother watching. I loved it, it was SO special and unforgettable! I'm sure those 'behind the scenes' memories will live in many hearts for years to come.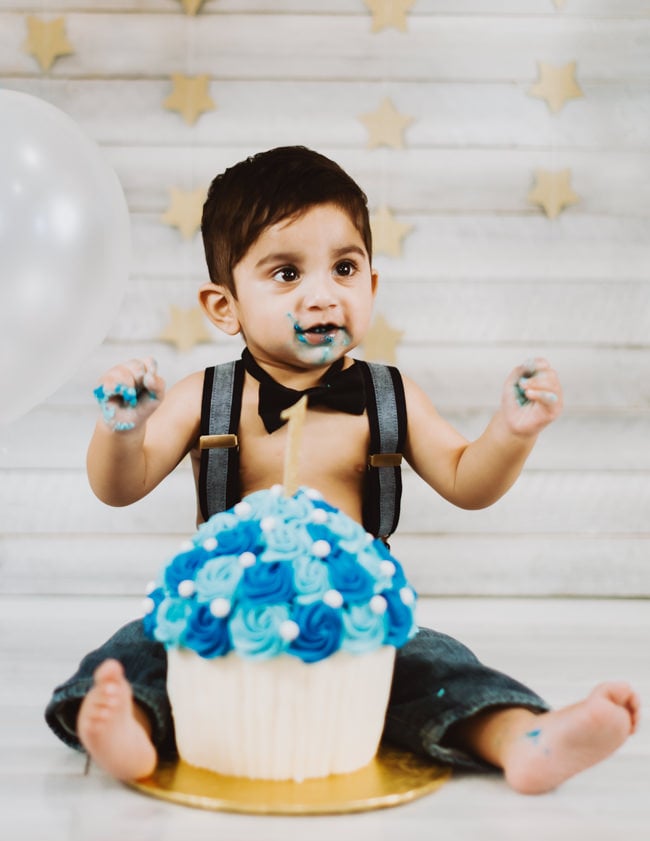 So the myth is over, everyone can enjoy a cake smash in Boston! It doesn't matter if you have a winter baby, spring baby, summer baby, or fall baby. Andre Photography will create the magic indoors or outdoors. I've got a portable studio, so the possibilities are endless. Your only worry is to decide what color you like the most and how your dream cake smash looks like in your dreams!
Mom I have your back, I'll walk you through colors, cakes, and backdrops options. You'll see, the fun really starts at booking!