The fact that you're reading this blog means that you have a desire deep in your heart to freeze time. We go through life in a hurry. We love our kids, yet we're mostly running on task, going off the script seems desirable yet sometimes so complicated.
A family photo session is an opportunity to do just that, to prioritize to slow down and dedicate time for memories. The photographer will facilitate the session, but it's your family's essence that will shine through. You'll get portraits of the most important people in your life with YOU in the frame; isn't that the best gift for a parent's heart ten years from now?
Expecting parents; big families; extended family with maybe a grumpy grandpa. These are your people. Investing in memories is so worth it.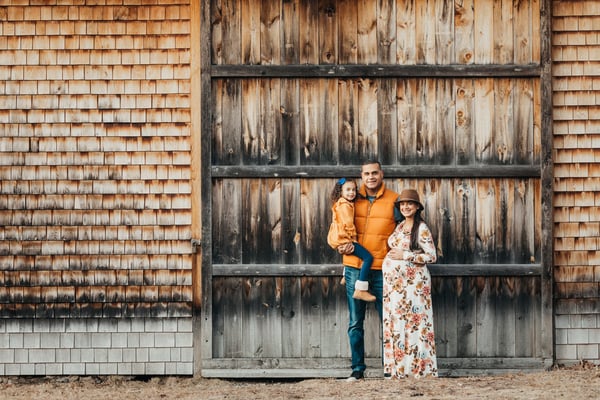 I wish the family photography industry was more established in the 80s back home in Venezuela. I crave for photos of me as a toddler with my dad or as a teenager hugging my mom. Sure, I have plenty of pictures under the Christmas tree with my big family looking at the camera, but that's mostly it.
I'd give anything to be able to look back at my childhood through portraits, showing it to my kids as we walk through memory lane. If this is something you're craving for, then a family photo session is right for you.
Types of Family Photos According to Your Family's Size
Small Families
It is the most common family session booking I get. Think about expecting parents or parents with their kids.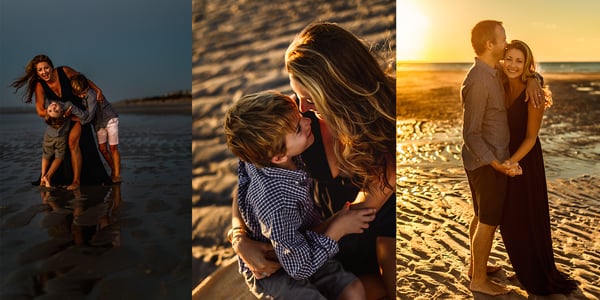 For me, it is a unique type of session; your most intimate and adored people will pour their souls, creating memories. This session flows like the wind. There is no script, and each family has an essence that makes them who they are. Throughout, my goal is to understand what makes your family tick and run with it. The hugs, the snuggles, the human interaction that naturally takes place on an intimate session opens up for the most breathtaking candid portraits.
Suitably, in a small family session, there is little to no tension, and there is one leader — usually Mom. The goals are clear and the desire to be there is SO tangible. If the other partner was hesitant for photos, usually by the time we meet or shortly after the session begins, they are all in! They open up and realize that there is no posing or direction involved, they get to be who they are, and I'm just there capturing what my heart feels.
Why does this transformation and willingness to participate suddenly happen? Small families book me when they're HAPPY. No one books a session during their lows as a couple or family. So, even if one of the parents is initially hesitant, as soon as the camera starts snapping, and they see their significant other delighted, in their zone, kissing and laughing with their kids, it's contagious, and they start smiling too!!! Seeing the person you love the most happy makes you want to participate and give in.
Yours, Mine, and Ours
It's not uncommon that a family is mixed. Meaning maybe a second marriage for one or both of the parents. Locking on a budget won't be an issue; the couple will decide how much money they'll like to spend capturing lifetime memories. The memories will be breathtaking, and the session unforgettable.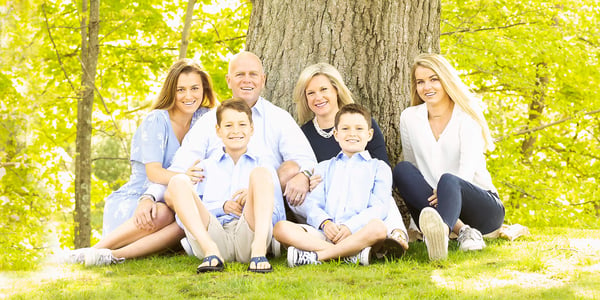 It's super exciting to capture the love of a mixed family, and I love it. My family is one of those! My dad married my mom, and they had my twin sister and I; I have four siblings - with whom I literally talk every day - that you would never tell that we don't have the same mom. The love and respect are intense, we love each other SO much, and there is no drama.
So, mixed doesn't mean drama yet if it does, the key to a happy experience will be logistics during the photo session execution. The photographer needs to know the exact family tree to make sure comments and guidance apply correctly. It will help create the photo combinations that will make every heart explode of love. Being assertive as a photographer is critical when families are mixed.
Extended Families
This type of session has many possibilities. It can mean immediate family + 1 set of grandparents or + 2 sets of grandparents. It can be grandparents with all their kids and grandkids. Or maybe three grown-up siblings that get together with their kids for a cute cousins' session. These sessions are incredible if planned the right way.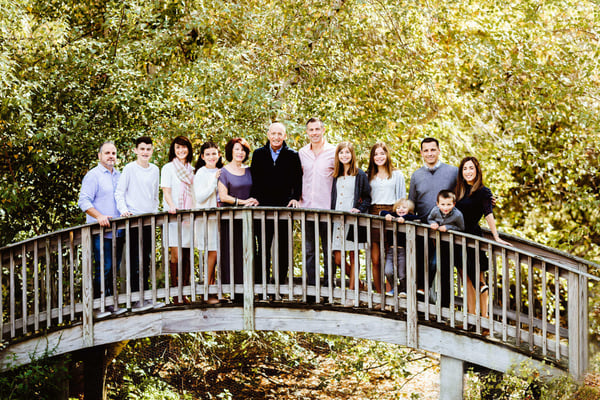 But, Do Family Photo Sessions Work for Extended Families?
Pricing is the biggest hassle when booking an extended family session for two reasons: first, not everyone's budget is the same. Second, everyone values memories in different ways and are willing to invest a different amount of money towards it. You'll be surprised when the family with the smallest budget prioritizes photo investment above all and are willing to pay premium ~ I see it often.
It's essential to have the money conversation from the get-go, so you don't get your hopes high and lose time. I've seen families approach me, spend many cycles discussing potential days/times/locations to only walk away when one of its members doesn't want to invest that amount of money.
Provided that your family agrees on the money investment from the start, you can filter out local photographers based on your real budget. It will get the booking going smoothly and reduce the drama behind the scenes. Remember that it's all about being happy by the time you get to the session!

Duration
Small-size Families
A 60-min session is desirable. During that time, you get to connect with your photographer; there's enough time to transmit your essence and open up your hearts. Up to 90-min works out fantastic weather permit; during warm sunsets, the temperature is so delicious that spending time playing outdoors is a treat! During cold months I wouldn't push it over 60 min; kids start to feel the cold and won't be as happy regardless of the warm cuddles and mom's kisses.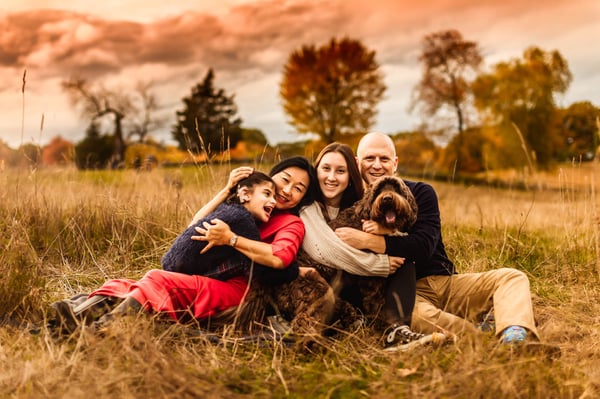 Extended Families
It all depends on what's the ultimate goal. If you're looking for an individual family session, if it's an extended family, then 2 hours would do great. Don't panic; not everyone needs to be there the entire time, especially grandparents. The session duration will be adjusted depending on the goals, like taking a photo for the Christmas card.
Your photographer will guide everyone through the logistics. We develop a schedule, and families can take turns. We usually start or finish with the elderly, so they can just relax and watch the show behind the scenes, or they can take a break and leave once their portraits are ready. Photographers always spoil grandparents; I adore them!
Location
How to Pick the Right Place/Time for Everybody
Studio versus lifestyle. For small size families, you have the option of doing the photo session on a studio; for large families, I highly recommend you meet outdoors. The reason behind it is that a confined small space can get crowded quickly, moods can swing and crash. Meanwhile, in the outdoors every family member can just be. Kids run around; others walk to explore the location; some might just love the behind-the-scenes and just follow the photographer around; for example, during a Fall Family Photo Session, your kids can play with the foliage, and that provides spectacular shots!
There are other things that you must keep in mind if you want a family photo shoot, which become even more critical in large groups.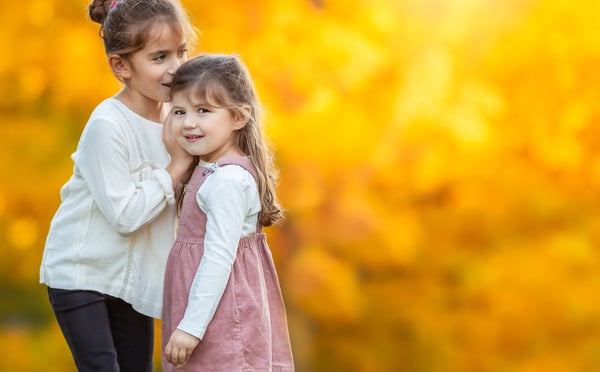 Family Conflicts and Other Hiccups
Trust me; I've seen it all. Here is some personal wisdom when drama affects behind the scenes of your family photo session:
Estranged family members. On extended family photo sessions, this is not unheard of; a family member might not be your cup of tea. However, I'm sure there is a more significant reason to agree to do the photoshoot. Having grandma cherish her grandkids portraits, or maybe while you have fun with your sisters? See the silver lining and overcome that company that you don't enjoy as much.
Members are running late. With small families, this is not an issue; a Mom who books a session and pays tons of money will do a tremendous work back schedule. Yet for extended family, lateness can create conflict. You can't control your brother-in-law being on time, but if your small family is there, then make the best out of it. The photographer will start the session, and whoever is late will just participate in what's left. It's their loss; you go with the flow and enjoy your candid moments with your loved ones.
Emotions are running high in the session. Usually, emotions run high when many kids from different families are running around. Each family has different rules, and I get it. My recommendation is to just focus on your kids, don't try to control your nieces/nephews. If each mom provides love, attention, and comfort to her kids, the session will flow. I promise that that photographer won't panic; we are not affected by tears or tantrums. We'll win the kids over and will let them have space when needed.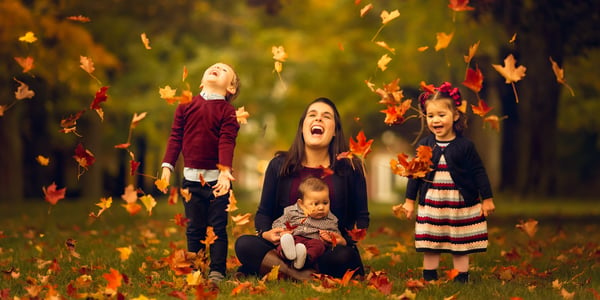 The Outcome
Last, But Not Least: Your Photographer Needs to Know About Your Family's Dynamic
The answer to who should book family photo session is simple: everyone can. It's not exclusive to little or large families. It all depends on who you choose as your professional photographer and what leads you to book a professional family photo session in the first place.
The photographer will want you to have an unforgettable experience, and he or she will pour its soul to have everyone feeling awesome! Knowing what the family likes to do together helps to ease preparations. It helps to lighten the mood, avoid fights/dramas, and other differences during the session.