You LOVE winter in wonderland yet you're worried about the cold weather for family photos? Fear no more, you can have your dream and gorgeous family memories! It's just a matter of adjusting expectations and following a few tips. Keep reading to learn the in and outs of Outdoors Winter Family Photoshoots!
Winter Has The Best Light!
This fact surprises many people! If you think that there is a compromise if you book a winter family photo session, then you're in for an unexpected charm. Light is softer during the winter months. The white snow acts as a huge reflector and everything looks brighter and gorgeous.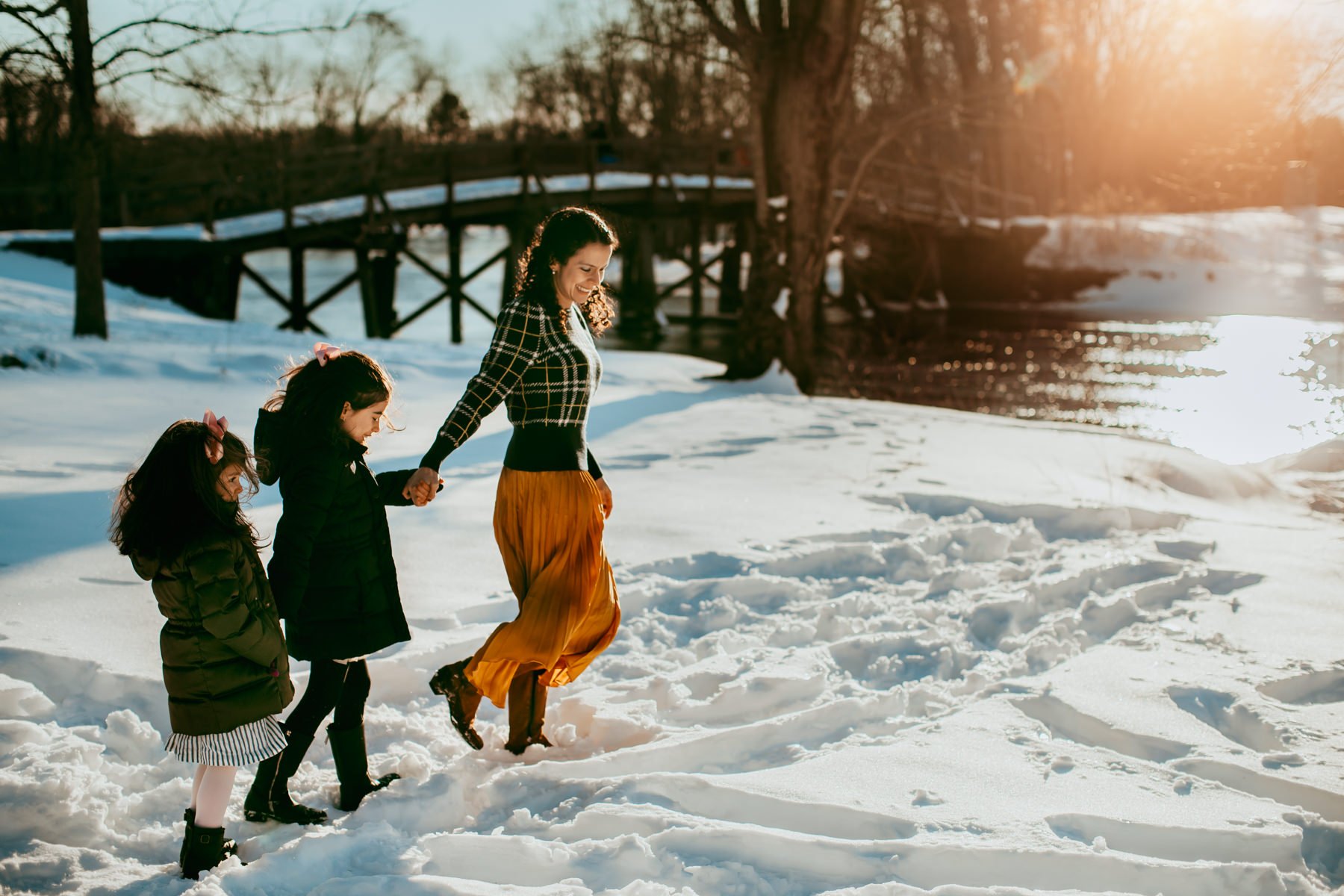 You Can Get Very Creative With Your Color Palette
When Mother Nature puts on a show that is driven by white and neutral muted tones (wood) then you can always pick a color you love to pop and stand out. In this case, the mustard skirt is running the show and every other color in the family works around it (navy, olive, beige, blue, and light pink).
Sessions Are Shorter, The Cold Won't Get You
The key to a succesful winter photoshoot ~ especially with little kids ~ is to keep it shorter. In Summer, 60-90min sessions work great. In Winter 45min sessions are just perfect! Meltdowns start when kids get so cold that they are uncomfortable. Is a shorter session doable? absolutely! Many reasons why the shorter format works this season:
Less crowds. Even the most iconic and signature locations are empty! As an example this bridge at the Minute Man National Historical Park in Concord, MA. On any other season this bridge is packed in and around it. So it always takes more time to find that window of opportunity to capture an epic scene like the one you see below.

Everyone cooperates when the weather is cold. It's ironic, right? I promise, something clicks with kids during Winter. It might be that they are just excited to be outdoors (people usually spend most of winter indoors and bundled up). Kids see this outdoors experience as a reward, a prize! So the moods are happy if they're dressed warm enough.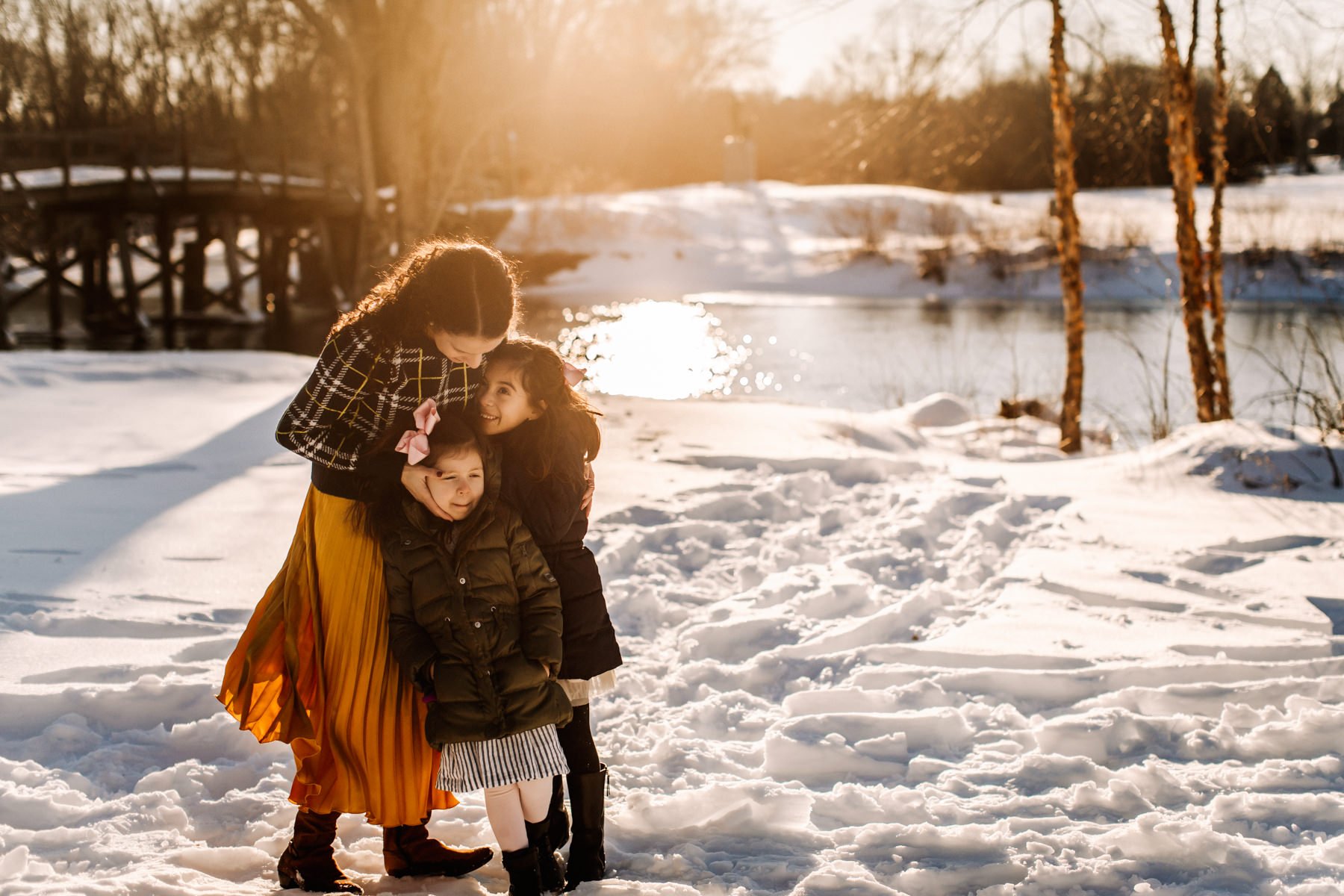 Sunsets Are Early, yay!
Meals and naps are something to plan around on a family photo session day. The beauty of Winter Family Photos is that sunset sessions take place around 4pm, that means that kids are in prime time! No ones is counting the minutes for dinner and the session takes place long after nap and way before bed time. It's a win-win in terms of little kids schedules! Wohooo!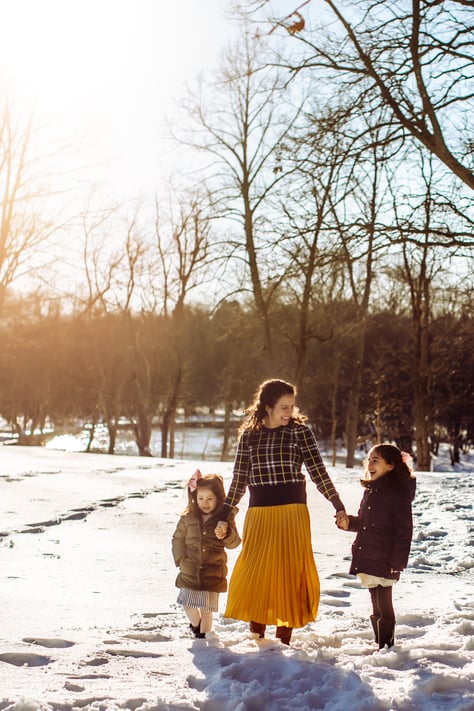 Dressing Warm Is The Key To A Successful Winter Photoshoot
This is key. In Norway they say that there is no bad cold weather, there is just bad clothes. If you dress warm enough the battle is already won.
Layers, layers, and more layers. Did I say layers?
Vests, knitted chunky sweaters, hats, scarfs, everything helps. See these accessories as an opportunity to add texture to the family wardrobe!
Chances are that jackets will be ON during SOME portraits. That means that the color of the jackets matters. Make sure you LOVE the jackets, if your kids are TOO cold and you're battling to get the coats OFF, it will go downhill. Plan for jackets ON and if it gets warm enough for kids to take them off, even better!
Boots. It's totally OK if you want everyone wearing leather boots (I understand! I'm the same way, shoes do show up in the photo), yet bring the SNOW boots with you. If the walk is long to the final location, have everyone make the expedition with warm feet. You can change them when the photoshoot is about to begin. OR if your tribe is full of happy winter troopers, leave the snow boots/extra pair of shoes in the car and change them as soon as the kids get back in the car, chances are their feet will be very cold by then.
Gloves are key. Bring them with you, even if they're neon pink! Everyone can take them off quickly and put in a pocket just in time for pictures. But it will be key to get those minutes of warm hands in between, they give the boost of warmth needed to go on happily.
Sweaters are your best friends. Find one that you KNOW it's very warm and build your outfit around it. With a VERY warm sweater you can go for a skirt or even a dress.
You're not tied to jeans/pants for winter family photos.

W

hy? because you can wear mid-weight base layer pants/tights under your long skirt. If you're wearing boots no one will tell :)
Moms have a magic power. You know what that is? ADRENALINE! Even the moms who are known to always be cold (ME included) don't need to be bundle up in winter photoshoots. We keep moving, walking, playing, and before you know it you take your jacket off and don't look back. I don't have a scientific explanation it's just my personal experience from my own family winter photoshoot :)


The absolute best part of cold weather family photos outdoors are.... the cuddles and snuggles!!! Be ready to receive love and give love like never before. Kids love the snow, some love it even more than the sand (my tropical DNA finds that fascinating!)
Bundle up buttercup and enjoy precious moments with your family. There are so many reasons to celebrate winter with epic family pictures, don't let the cold weather intimidate you. With the right clothes and right mindset you're guaranteed an unforgettable experience. If you've done Fall family pictures before, try Winter and you'll see how different the portraits will feel. The winter magic is unstoppable, the light is gorgeous and so soft, this is probably the biggest hidden secret!
I can't wait for you to experience the winter in wonderland magic during family photos! It's epic.
Love,
Andre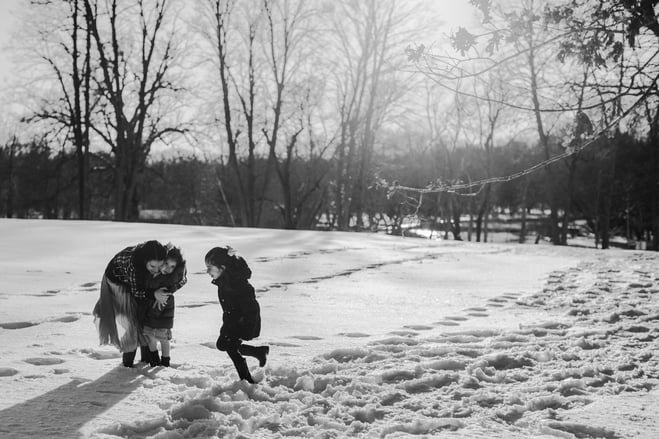 ABOUT ANDRE TORO PHOTOGRAPHY
Andre Toro is an award wining family and published photographer based in Lexington, MA. She calls her style Real Art Photography, which she defines as Fine Art inspired by candid moments. Andre is a passionate soul, obsessed with human connection, and emotive storytelling. She believes love is raw, messy, and beautiful. She specialized in Family, Maternity, Newborn, and Birth Photography. To inquiry about booking a photo session, please contact her at andretorophoto@gmail.com