Baby girl was born in April, the perfect Spring baby and her Mom, Karla, wanted to have a special, unique memory of this moment.
She decided not only to capture her baby in beautiful portraits, but have candid images of her husband and her first two children as well. Here's Karla and her family's experience with Andre Toro Photography's In Home Newborn photo session.
This was Karla's third and last kid. She wanted to make it unique, so she decided to have a newborn photo session. She didn't get around to do it with her other two children, and she didn't want to miss this opportunity.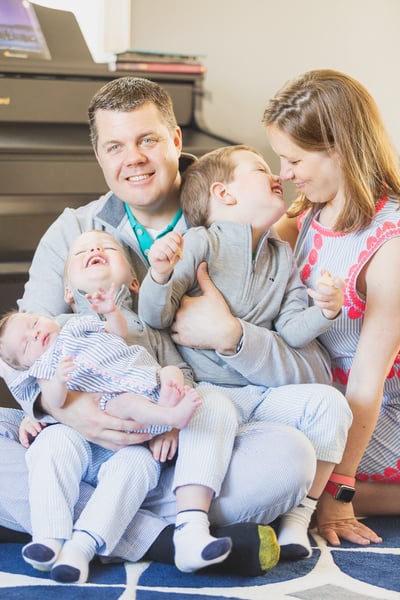 When she approached me, she wanted to learn all the packages that I offer around maternity and compare pricing lists. She decided to do both pregnancy and newborn photos! Doing the pregnancy photos was an amazing opportunity to meet her older kids and win them over. When we met again for the newborn photos, the kids trusted me already and the ice was completed melted from the get go :)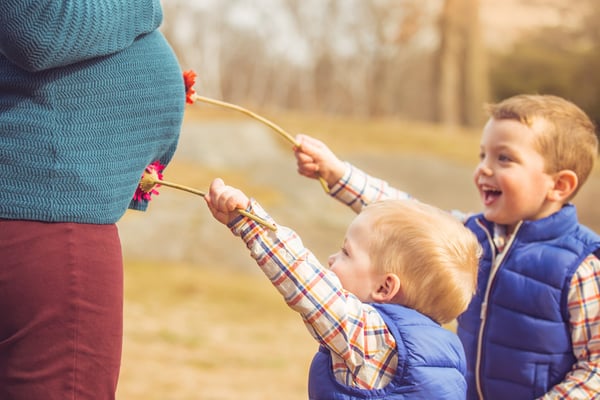 Karla and I got along right from the start. She was looking for both candid family portraits and adorable posing baby portraits, so yay for Andre Toro Photography's hybrid newborn session!
She also preferred to have a nice in-home newborn photo shoot rather than going to a studio because her baby would just be days old, and she preferred the comfort of her home. Something I strongly support, by the way; there was "no need to leave my house with a newborn (tons of logistics and potential stress)," Karla says.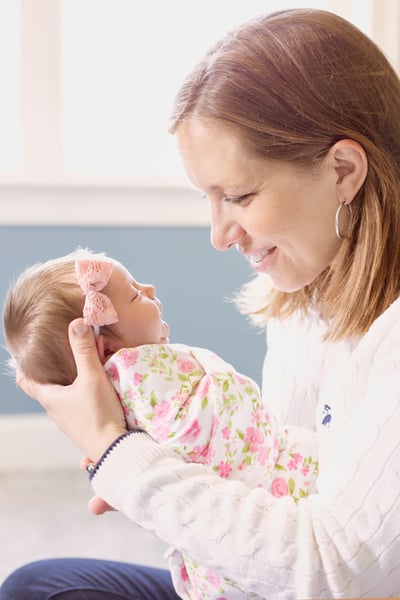 This in-home photo session exceeded her expectations, and mine! Being home makes it easier for everyone to feel relaxed and enjoy the moment, even baby! "I didn't think baby would cooperate, and Andre got amazing shots of baby and the whole family," happy Mom says.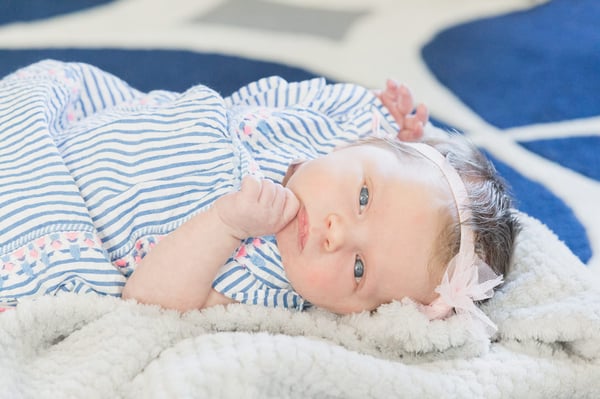 One thing Karla really appreciated was that I handled all the setup, so she would focus only in what was important: spending a lovely time with her children and husband.
Karla had time to feed the baby, play with her older kids and get them settled. The first thing I did was to scout her house chasing the best natural light. We settled in the living room and the master bedroom for the family shots. In her home, window light was beyond my wildest dream, so I had no need to set up my studio lights! I made the most of that natural morning light.
Also, the home environment helped me create the most adorable candid family portraits, we used the living room rug, a comfy chair, and the master bedroom. Then we set up the studio and props in the master bedroom to pose the baby girl in baskets with tutus and bows. Tons of kisses and baby snuggles along the way.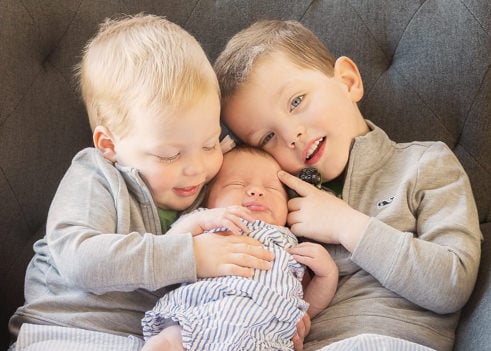 Another thing Karla really appreciated from this experience is how I handled the older siblings. We had such fun! In newborn sessions you never know how the siblings will want to interact with the baby. As a photographer, it is so important to read the room and ask each kid something that they'll love to do, either hold, kiss or just sit next to the baby. In this case we had big huggers!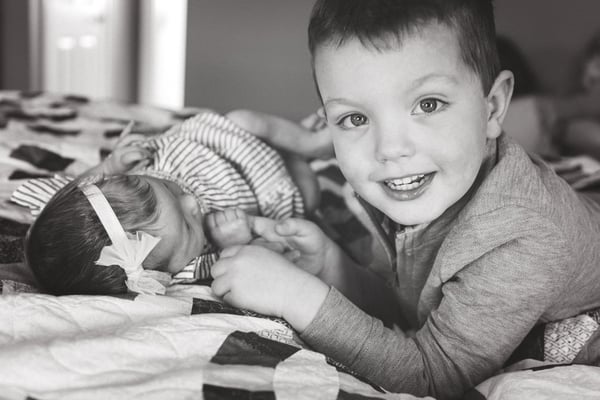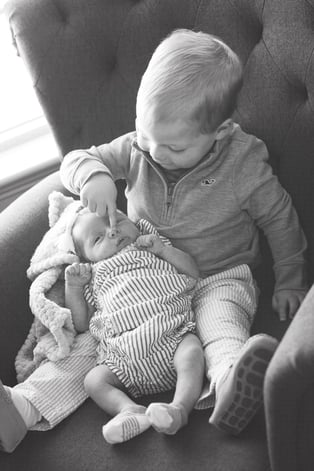 Another big win? With little siblings it is always a good idea to start with family portraits and leave the baby posing portraits for the end. That way the kids can go to school/daycare as soon as we wrap the family lifestyle part of the session. When Dad left for daycare with the kids, mom and had so much fun posing the baby in adorable sets and doing more Mommy & Me portraits!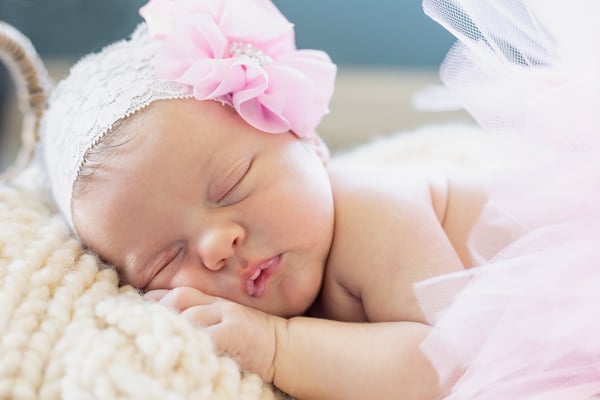 I asked Karla if there was anything she would not recommend about a newborn session, and the only regret she had was not doing it with baby's two brothers. "I'm just so happy we have memories of this life milestone welcoming our baby girl," she says.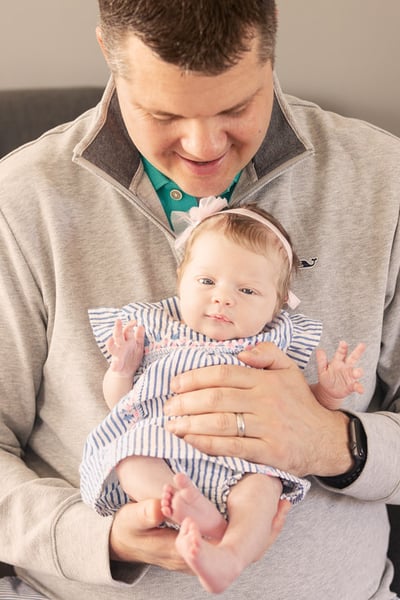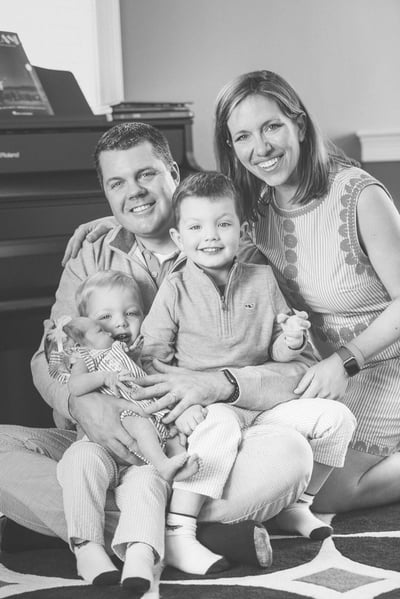 Happy Mom's Key Takeaways
If you are a new Mom or a second/third time Mom that does a newborn photo session for the first time, Karla recommends that you follow your photographer's advice but always add your personal touch or personality to the photo sessions.
Also, not to push it. If you have any medical condition that the newborn photo shoot could stress out, doing a 3-6 months baby session instead will work wonders!
Karla also suggest that you just go with the flow and not to become frustrated if baby cries or does not pose exactly as Mommy wants; the right photographer will be able to take the cutest photos regardless.