We're in an era that moms crave to remember all the little details of their kids, technology is available 24×7, and we're always snapping photos of our kids with our phones.
What's missing from this interaction is that we — moms — are barely in the frame, let alone as a family of 4 (my case!). That's when a family photo session with a professional becomes something to crave for. Here are a few reasons why you should have it fulfilled.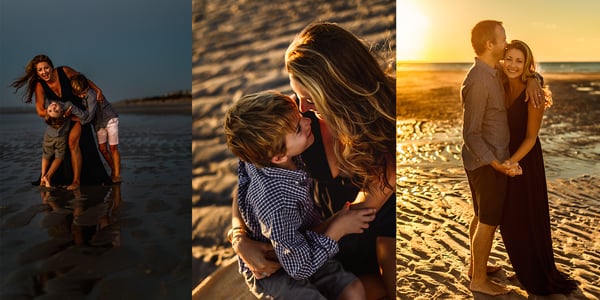 1. You Spend Quality Family Time
You hire a photographer to capture your family's essence. To document the life you're living at this exact moment. As parents, we're always on task living a hectic life, even more so if we have little kids.
So, booking a family photo session means slowing down and prioritizing tangible memories for years to come. The right gift for your soul ~ today and years from now.
Also, the right moment creates a fascinating portrait, a professional photographer will know when it's happening. A photo will be enhanced in post-processing using the most incredible editing techniques. Yet if the moment captured doesn't speak by itself, the portrait won't be breathtaking; it's that simple.
It's all about capturing the moment when the moods are high, the emotional state is in tone, and you can feel the closeness between the family members. Ultimately the photographer will capture what they feel, not what they see. The mood will set the tone of the portrait. The artistic eye will come into play to enhance the moment and transform it into a piece of art.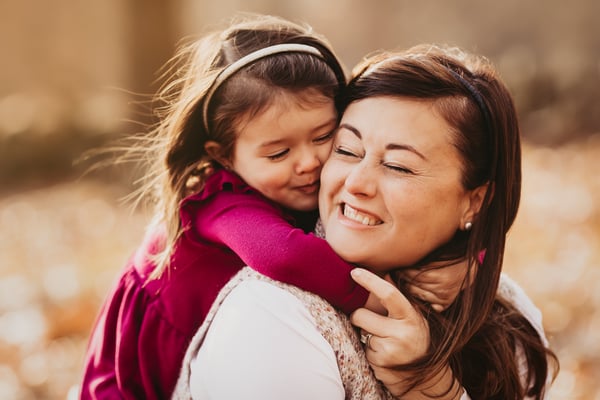 2. Because Families Change
How often should you have your family photos taken? It depends on your family. It is so important to capture your newborn's milestones because those moments happen once! So, it's common that parents book a newborn photo session, sitter photo session (6-9 months), and finally a cake smash session (1-year-old).
For families, once a year is what my heart craves for, especially with little kids who change so dramatically year after year. You'd want to remember that cute 5-year-old face before losing her first tooth, or those adorable cheeks of your 2 years old. There is no rule, however.
If you have teenagers or older, if you skip a year, you'll be ok. Life happens, and I understand that it gets more complicated to get everyone to coordinate schedules.
For extended families, it all depends on how often you can get a big family together. If grandma is lucky to have all the kids and grandkids in town, go for it! You will never regret having too many breathtaking memories of your loved ones.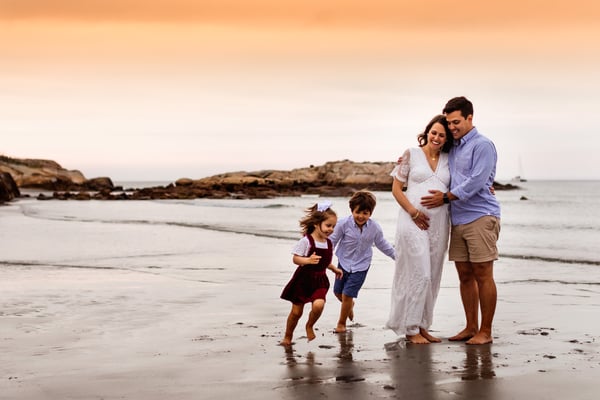 3. It Is an Investment that Lasts a Lifetime
Yes, a photo session is an investment. Every family decides how to invest their money, big-budget, or little budget, everyone values portraits and memories differently. I've seen families who save for many months to book a Full Family Session with me, and others with huge pockets who only book a Mini Family Session.
If you book a professional photographer, it is a significant investment. In my opinion, it is beyond worth it. It's the best gift for you in 10 years, for your kids in 20 years. Having memories of Mom & Dad in the frame while laughing at sunset, your kids playing with the leaves during a Fall Photo Session, or grandma enjoying the afternoon with her grandkids, is priceless.
As in any professional service, what you pay is what you get. It is different running a photography business compared with a hobby. To provide the absolute best service, the photographer invests an enormous cost in equipment, learning, development, software, and tools, among others.
The experience itself, the gallery, and portraits results, the print goods such as canvas or albums are all a reflection of your photographer's charm and business. It is an investment! In my opinion, when you have to work hard for something, you value it more. Breathtaking family portraits are worth skipping a few trips to Target or the mall ;)
Once you understand the benefits of this investment in your family's life, you start to appreciate the value of photography and everything that goes behind it.

4. Finding the Right Photographer is Serendipitous
The journey of choosing the best photographer for your family can be challenging. There are different parameters to think about and expectations to meet.
So, when the fit is right, that is, the photographer of your choosing is the RIGHT ONE, don't let it go. Finding someone that understands your taste and preferences, gets your essence, and tailors the session to your family's nature, is a precious relationship that you grab on to.
The right photographer will understand and counsel you into selecting the style of photography and editing that speaks to your heart. Research is critical; every photographer has a signature style, fall in love with one and go for it!

5. Size Doesn't Matter
It really doesn't matter how large or small your family is; whether it's expecting parents, small families, or extended ones. The right photographer will be able to create stunning portraits for any family size.
The key is that extended families respect each other and decide to collaborate on being on time. With good vibes, small families enjoy their time together or that expecting parents share their joy with the world.

Before You click
I've given you five reasons to book a Family Photo Session with a professional photographs. However, keep in mind that photo sessions don't follow a template or script. Be flexible, have fun, and go with your family's flow.
Keep an open mind and embrace the experience as it happens. That is why it is so important that you rely on your photographer for help; he or she will help you manage every detail as much as possible and control the anxiety before, during, and after the photo shooting is done.